December can be a hectic month for your business and personal life because of year-end demands and chaos associated with the holidays. This year, my focus was on JOY and doing less, not more to enjoy the season with more peace. With the new year approaching, it's always a good time to inventory life.
On a scale of 1-10, with 10 being the highest how would you rate your career, family, friends, spirit, finance, health, community, & personal life? Last week, two of my colleagues with n2 Publishing carved out 24 hours to have a business retreat at Grandover Resort and I was amazed at how each of us shared tremendously personal aspects of our lives that were draining our energy and impacting our ability to go to the next level in business.
The agenda for the event included:
Target three goals for the next 90 days
Identify things to start doing and stop doing in 2019 personally and professionally
Evaluation of work/life balance that included the eight categories mentioned above
Discussion of four levels of dealing with change
Learn the impact of a growth mindset vs. fixed mindset
Understand the catalyst methodology to create meaningful change
Identify what's working, not working and missing in our business
Set action items to hold each other accountable
The book I bought for each of us was Hyper Focus How to be More Productive in a World of Distraction by Chris Bailey.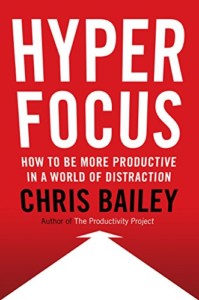 After the workshop, two of us worked on our pipeline list of future business partners and made sales calls from the Cone Suite at Grandover. It was a productive, purposeful session and I was grateful to my colleagues for investing the time. Visits to the spa, a delicious dinner and relaxing that evening with friends made the event one to remember.
Have you taken time out of your schedule to work ON your business or are you too busy working IN the business? A retreat is a strategic way to evaluate your business, life and relationships. Be a catalyst for change and schedule a retreat to take your career, life and your team to the next level.
Need help? Call me to explore how we can customize a retreat for your team in 2019.
I hope you had a JOYful Christmas and an AMAZING New Year!